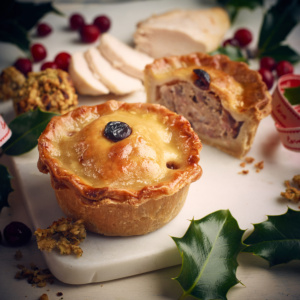 Ivan has gone back into the development kitchen in 2016 to expand our range of products by introducing a selection of Gourmet Pork Pies. We always like to offer something a little different here at Coopers, therefore our Pork Pies are filled with the finest quality ingredients and flavoured jellies. We have taken some inspiration from some of our best selling Sausage Rolls and used the flavour combinations you know and love.
Traditional Pork Pie
Pork, Chicken & Cranberry with Cranberry Jelly Pork Pie
Pork, Shropshire Blue & Caramelised Onion Pork Pie
Pork, Black Pudding & Apple with Apple Jelly Pork Pie
Our Pork Pies have been launched to our lovely stockists on 1st November 2016, so you will be able to enjoy them over Christmas!
Enjoy with a dollop of the finest chutney (we recommend Heather's Harvest who is a fellow local producer in Shrewsbury)