After months of development and alterations we are finally pleased to share with you our new and improved packaging!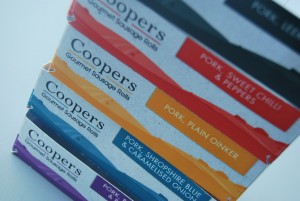 We have invested into professional design work where they have created a unique colour for each of the six flavours we are now offering.
You can now get our packaged sausage rolls in the following flavours:
Shropshire Blue and Caramelised Onion
Leek and Sage
Hickory Smoked BQQ
Black Pudding and Apple
Sweet Chilli and Peppers
The Plain Oinker
Don't worry you can still get the Bombay Potato Bomb aswell!
Below are some pictures of the new packaging which is available.
Have a look out for our new packaging in your local Coopers Sausage Roll Stockist and see if you can see our new packaging. If you do, please take a picture and post it on our facebook or tweet us @coopersrolls