Ludlow Food Festival is always a major event on our calendar, and this year was no exception!
Set in the beautiful surroundings of Ludlow Castle, it is a top destination for foodies.
The festival began on Friday 11th September 2015, with a van full of sausage rolls including our best selling Pork, Shropshire Blue and Caramelised Onion, along with old favourites such as Pork, Hickory Smoked BBQ, Pork, Black Pudding and Apple and many more, we took to the roads and headed straight for Ludlow!
When Saturday morning arrived the weather was miserable but everyone kept spirits high while we set up for what was going to be a busy day ahead! As the day progressed the sun came out and everyone enjoyed sitting outside with bags full of great local produce and a cocktail in hand!
When we attend a festival we like to take our 'Sex, Drugs & Sausage Rolls' T-shirts with us, after wearing them behind the stand, they have become very popular and we had to start a sideline selling them – and the best thing is that if you come to a festival wearing one of our t-shirts, you get a free sausage roll – woohoo!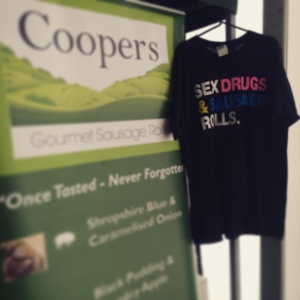 Something else very exciting happened while we were at the food festival – the launch of the
'Made in Shropshire Recipe Book'
This book is bursting with delicious recipes from 86 local producers, including a recipe from us-
Pork, Duck and Marmalade Sausage Roll!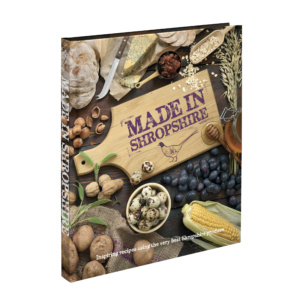 If you couldn't make it to this years festival – please make sure you get it in your diary for next year!
You don't want to miss out!!